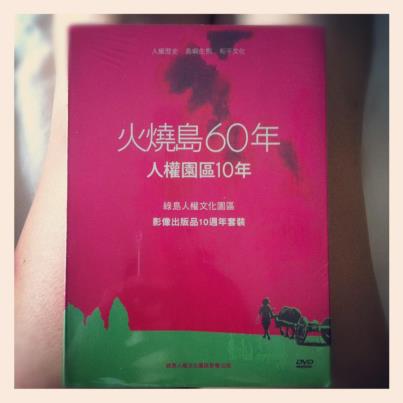 A few of us will be headed to Green Island from 6/17-19 and beforehand we will be screening a few quick documentaries the Tuesdays prior. Pop in for the one you're interested in. This will be my foray into this section of Taiwan's history and learning about human rights so welcome to join!
火燒島 [ 綠島人權紀錄片 ]

日期:星期二(6/5) (6/12)
時間:18:00 入場,18:30 開始播放
地點:睡不著咖啡館 INSOMNIA CAFÉ (台電大樓捷運站3號出口)

免費入場/禁止外食

6/5/2012 (二)
18:30 青春祭 LOST YOUTH ( 30 分 )
19:05 綠島的一天 A DAY ON GREEN ISLAND ( 30 分 )
19:45 綠島e光 THE LIGHT OF GREEN ISLAND ( 119 分 )
6/13/2012 (三)
18:30 台灣政治犯救援錄 BURNING MISSION: RESCUE POLITICAL PRISONERS OF TAIWAN ( 30 分 )
19:05 我的人權之旅 MY HUMAN RIGHTS JOURNEY ( 30 分 )
19:45 白色見證 TONGUE UNTIED ( 60 分 )


Welcome to join our outing to Green Island (we will be booking tickets before the end of May 31st 2012 - welcome to continue to RSVP but tickets become a bit more and more difficult to book due to summer). Cost is about $3,500 NT + RT train tix

https://www.facebook.com/events/364095626982511/

Insomnia Cafe is generous to let us host this so please no outside food so please eat prior or after. They also have a great menu with great pizza and thanks to alcoholic owners, a bevy of beers and other savories to quench that summer thirst. If you are good there might be some popcorn on my tab but first come first serve!



***********短片介紹***********

TONGUE UNTIED (白色見證) - 60 minutes
TONGUE UNTIED is a 2002 Taiwanese documentary. Today's Taiwan is now a vibrant example of a well-functioning Asian democracy. However, it has one of the darkest histories in the world. Its period of martial law had been the longest in the world when it was lifted, lasting for 38 years, from 1949 to 1987. As in many authoritarian states, during these four decades, the Taiwanese people were arbitrarily arrested, imprisoned, executed, or disappeared, for their real or perceived opposition to the government. This documentary is the oral history of those who survived.

BURNING MISSION: RESUCE POLITICAL PRISONERS OF TAIWAN (台灣政治犯救援錄) - 30 minutes
In the early 70s, an American and a Japanese formed a secret network linked with families of Taiwanese political prisoners to send abroad their appeals; these people were soon blacklisted by the Taiwan government. After the last political prisoner in Taiwan walked out of the Green Island Prison, Taiwan was assessed by Freedom House to be a completely free country in year 2000. The Taiwan Group of Amnesty International, composed mainly with young people, then began to take action to rescue political prisoners of other countries.

"Taiwan owes its democratic achievement to many international friends, who spent their youth striving for human rights. They ran the risk of their lives to rescue political prisoners whom they had never met before, however, their effort might not lead to any fruitful outcomes. Even worse is that many of them may be down and out at old age. As a documentary maker, the only thing I can do is to tape down their stories, and pass them over to generations to come." – Chen Lih-Kuei

A DAY ON GREEN ISLAND (綠島的一天)
This documentary film, A Day on Green Island, has recorded various touching stories from victims of the "White Terror" (following the 228 incident) and the residents of Green Island. The stories remain as painful and unforgetable memories of victims and their families, and as recollections of people who live on Green Island.
主辦單位:國際特赦組織
協辦單位:睡不著咖啡館 Insomnia Cafe